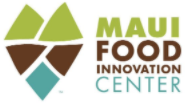 SUMMER 2020 CLASSES
A Certificate of Completion or Certificate is awarded upon completion of classes.
Employee Training Funding (ETF) 50% assistance up to $400 per class is available through Workforce Development Division Maui.
CULN6020 – Applied Studies in Fundamental Food Manufacturing
A self-directed and self-paced kitchen lab experience for MFIC food manufacturing graduates. Graduates work in the fully certified MFIC R&D kitchen environment to increase understanding of manufacturing efficiencies, good manufacturing practices, standard operating procedures and adherence to best practices in kitchen safety and sanitation procedures.
4:00PM to 5:00PM | Sep 10, 2020 to Dec 31, 2020 | Register
BUS6821 – Food Products-Concept to Consumer Incubator Program
Have a Food Product Idea or Recipe Consumers Would Love? The Concept to Consumer Incubator Program, is an in depth class that teaches food industry best practices for taking your recipe idea or concept and turning it into a viable value-added food product for the retail marketplace!
Note: Completion of an online Survey application required prior to acceptance.
6:00PM to 9:00PM | Aug 11, 2020 to Sep 29, 2020 | Register
BUS6822 – Maui Food Business Start Up – Part I: Concept to Test Market
Join small business startup guru Gary Albitz as he leads you through a series of 8 classes designed to launch a successful food business on Maui! These 2 hour informal & interactive meetings offer a systematic approach for profitable food business development targeting food manufacturers, Restaurateurs, food truck operators, and farmers / chefs interested in creating value-added food products.
5:30PM to 7:30PM | Oct 14, 2020 to Dec 09, 2020 | Register
BUS6820 – Maui Food Industry X-celerator
This 8 week training course features guest speakers and industry experts who coach and mentor participants to develop their product and business. Class covers the nuts and bolts of food production, food safety, business planning, marketing, financing, sourcing supplies and other food business related challenges.
6:00PM to 9:00PM | Sep 14, 2020 to Nov 02, 2020 | Register