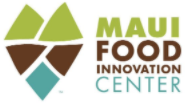 MISSION: Building a stronger, economically diverse, and sustainable Maui Nui by X-celerating and elevating food producers through education, business incubation, and community connections.
VISION: Develop local "cottage" size companies into medium size food manufacturer's by providing them access to industry leaders, resources & technologies, a shared-use food incubator kitchen and processing facility that fosters businesses growth.
X-celerating Foodpreneurs of Hawai'i
The Maui Food Innovation Center (MFIC) is a unique first in-state incubator fostering Agribusiness and Foodpreneurs x-celeration and education. Part of the University of Hawai'i Maui College, located in Kahului, Hawai'i, MFIC is helping build a stronger, economically diverse, and sustainable Maui by supporting the value-added food industry. MFIC assists its community by providing technological expertise, innovative training, consultation, a manufacturing facility, and a Resource Hub for new and established food entrepreneurs endeavoring to bring their products to market locally, regionally and nationally.
MFIC GOALS ARE:
INCREASE profitability via development of new value-added food products.
REDUCE dependence on imports
CONTRIBUTE to the sustainability of island-based agriculture.
CREATE jobs.
IMPACT revenue for food businesses, Maui County, and the State of Hawai'i.
CONNECT foodpreneurs with food industry leaders and business experts.
SERVE community with outstanding service and education.